Detail
Detail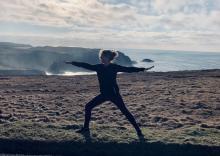 Uig Yoga Group weekly classes
Uig Community Centre
Timsgarry / Timsgearraidh
Isle of Lewis
HS2 9JE
Nature of Business
Classes take place in Uig Community Centre, Crowlista, Uig, HS2 9JE. Upstairs in the Meeting Room. Ample free parking.
Restorative and Relaxing Yoga All ability. Scaravelli inspired yoga.
£5 per 1.5 hour long class. Pay in the class. With Qi Gong and Shamanic influences.
Visitors to Uig welcome.
This is not power/fitness yoga. But attention to fine details of the body. Slow transistions with no unneccesary over stretching. Safer for the joints.
We begin with gentle but intelligent warm up for the body and move into Slow but deeper work into the joints and spine. "Engineering for the Body".
After an hour, we have a short break, then move into breathwork, meditation/relaxation.
Yoga is not about bending and twisting. Yoga means Union. Union of your true self and to your higher power.
Reiki attunements twice a year.
Website: https://www.juliashawslowyoga.co.uk
Email me: jshaw10209@aol.com Please save your space by email, thankyou.
Categories
Fitness and sports centres Meditation and Hypnotherapy Personal training, aerobics, yoga and dance services